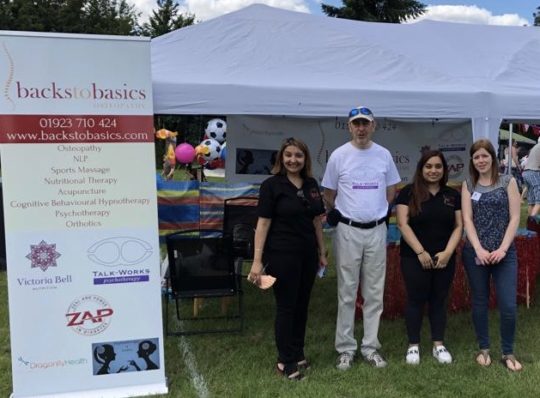 The sun came out for Croxley Revels and so did the crowds – what a great turn out it was for the day! The aroma of delicious food drifted over tantalisingly to the Backs To Basics stand, situated near the entrance and a steady flow of revellers came and went all day.
If you attended the event it was hard to miss our NLP practitioner Rakhee who wandered around with a foot in her hands to get the conversation going about foot health and diabetes awareness! Our osteopath Anita was available all day to discuss all things related to osteopathy, and Tom our psychotherapist greeted many of you interested in mental health. Our newest team member Saira was very popular with many people intrigued by hypnotherapy and I was happy to answer questions about nutritional therapy.
A stroll amongst the other stalls gave us each a chance to meet many other local businesses, charities and organisations. Although we could only hear rather than see the entertainment coming from the other end of the festival, we each got a sneaky peek of some of the amazing performances by dozens of talented performers of all ages. The team really enjoyed saying hello to many happy clients as well as meeting lots of new faces. We hope to greet many of you at the clinic soon!
If you would like to try out any of our services, then visit the Backs to Basics website for further details, email us at [email protected] or call us on 01923 710424.
by Victoria Bell, Nutritional Therapist,